ISDIN Lambdapil Shampoo, Lotion and Capsules
Boost volume and recapture vitality with this special hair loss treatment range designed to promote stronger, healthier hair.
What Is A Great Hair Loss Treatment?
When looking for a hair restoration treatment, it's essential to determine the cause of thinning hair. And often, during a Wellness evaluation with labs, we learn that hair loss is caused by a hormonal imbalance or poor nutrition. As we work with each individual patient to develop a Wellness plan that fits their body, we start from the inside out with hormone replacement therapy and/or nutritional supplements. And we often recommend ISDIN hair loss treatments.
Why ISDIN Hair Loss Treatments?
We looked for a targeted hair density system that includes a daily dietary supplement, shampoo, and lotion to address the problem from the inside out first. And we chose ISDIN because of its proven ingredients such as:
D-Biotin: Increases the strength of the hair root to improve hair quality.

Taurine: An amino acid that helps strengthen fragile hair.

Serenoa serrulata (

saw palmetto)

fruit extract: Supports hair growth.

Zinc: Contributes to protein synthesis, including the structural proteins keratin and collagen, key to healthy hair.
What Is The Most Common Cause of Hair Loss In Men?
Male pattern baldness, also known as androgenetic alopecia, is caused by genetic factors inherited from parents. Although the exact mode of inheritance is unclear, it often runs in families. Thus, if you have balding relatives, you are more likely to experience it as well.
What Is The Most Common Cause of Hair Loss In Women?
While women also suffer from androgenetic alopecia, other causes are telogen effluvium, abnormal thyroid, medications and supplements, hormone changes caused by pregnancy, menopause, or birth control pills.
What Is Telogen Effluvium?
Hair loss caused by severe stress, grief, or body changes is known as telogen effluvium. This type of hair loss is common and typically results in thinning hair around the top of the head.
Does Lambdapil Treat Androgenetic Alopecia?
More than 2,000 patients clinically endorse the efficacy of Lambdapil ANTI-HAIR LOSS Lotion, both for alopecia diffusa and androgenetic alopecia, in men and women. 
The Journal of Cosmetology & Trichology, conducted a clinical study on the use of Lambdapil for androgenetic alopecia in men and acute telogen effluvium in women.
" Dietary supplementation with Lambdapil® Anti Hair Loss capsules for 6-months was safe and effective in both women and men suffering from hair loss."
Indulge yourself with exclusive Advanced Medical Spa membership benefits.
How Can I Get ISDIN Hair Restoration Treatments Near Me?
You can get hair restoration treatments at Advanced Medical Spa.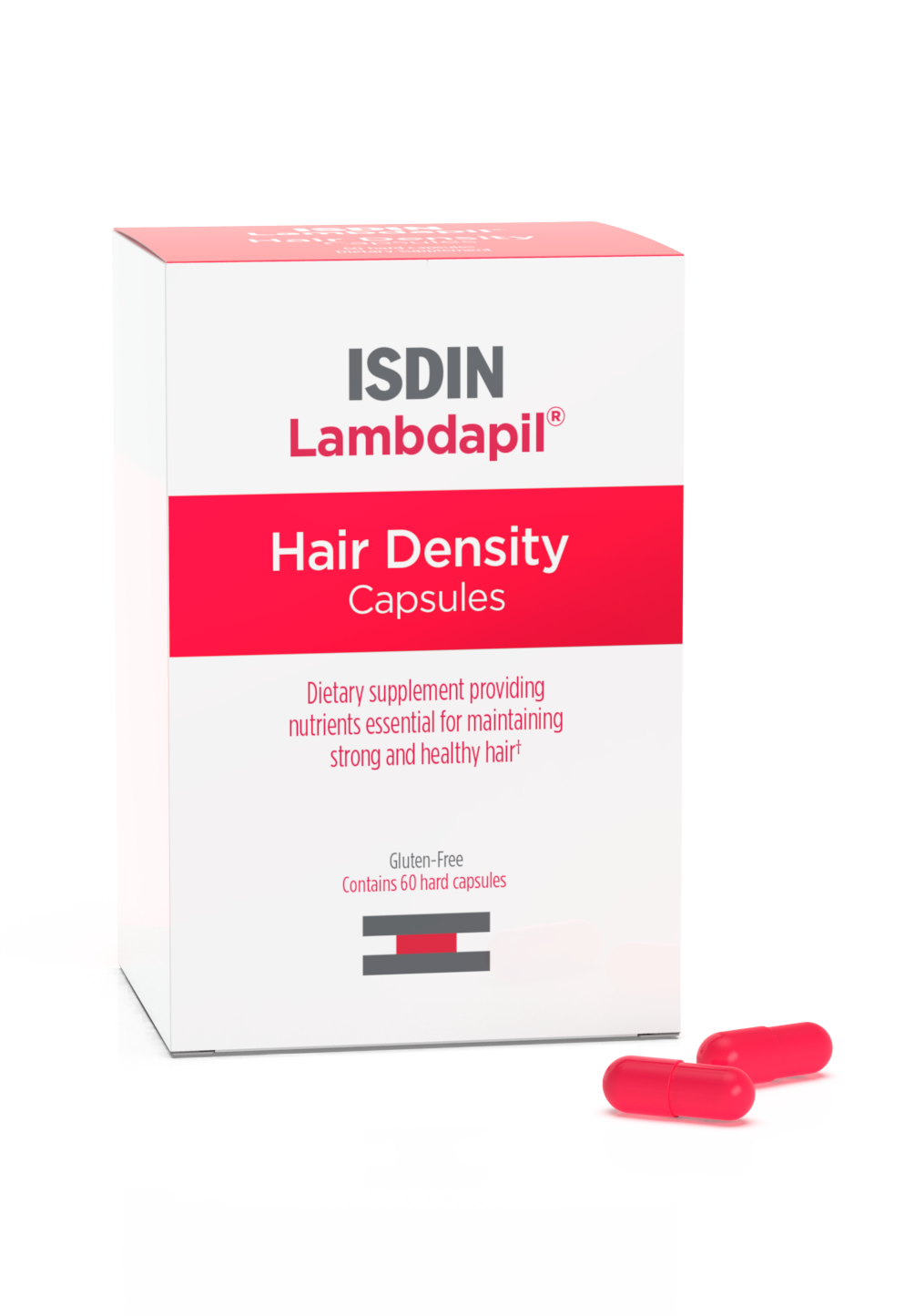 We recommend starting with ISDIN Hair Density Capsules
As we said, hair loss starts from within, therefore treatment should do the same. And Lambdapil Capsules are the perfect dietary supplement for healthy hair that is nourished from the inside out. A smart complex of ingredients helps to achieve hair strength and vitality and promotes healthy hair maintenance.
Good to know: Gluten free, contains ingredients essential for normal health and function of the hair follicle.
Main ingredients: Taurine, zinc, d-biotin, serenoa repens, L-cystine, Equisetum, group B vitamins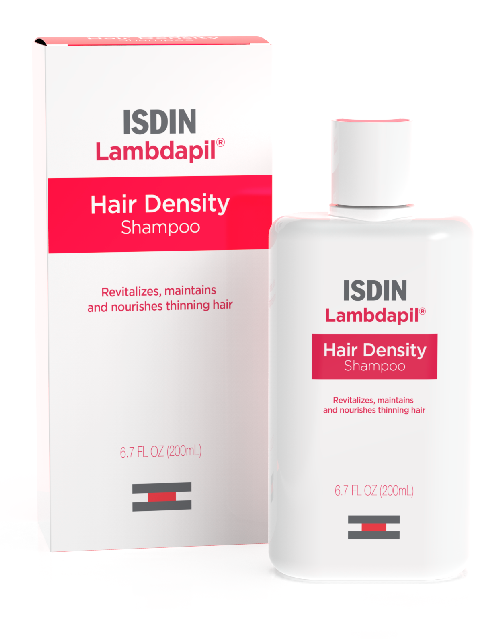 Along with the capsules, our patients are using ISDIN Lambdapil Shampoo and Lotion
Lambdapil Shampoo is specially formulated to help you achieve thicker, fuller-looking hair. It works for both men and women and contains ingredients that will leave your hair feeling refreshed and healthy, without any greasy residue. You can use Lambdapil Hair Density Shampoo on a daily basis to maintain perfect hair condition.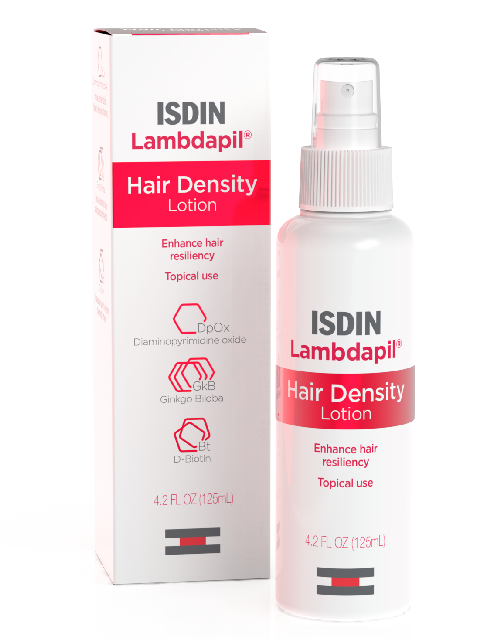 Lambdapil Lotion is created with a unique blend of ingredients that work to enhance the strength and thickness of hair. This lightweight, leave-in lotion won't cause any greasiness or stickiness, and the dropper allows for precise and easy application, drop by drop.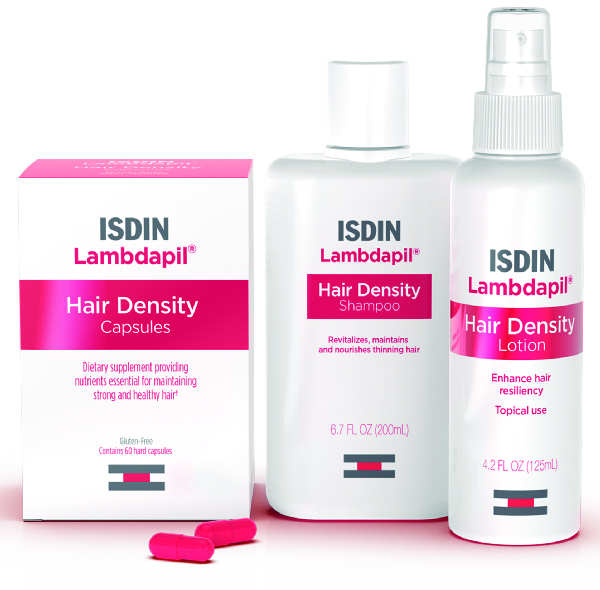 Make It Easy With The Lambdapil Hair Density Kit
Revitalize and nourish thinning hair with this targeted product range designed to promote stronger, healthier hair. Save when bundling the complete three-step Lambdapil Hair Density system, which provides the essentials to give thinning hair new life with a lotion, shampoo, and a two-month supply of supplement capsules in each pack. 
Want to Know More About ISDIN?
ISDIN, a Barcelona-based company founded in 1975, has become a leader in European skin care. The brand is known for their "dermocosmetics" which are developed through collaboration with scientists and dermatologists to provide advanced solutions for various skin and hair care needs.
As leaders in sun care and experts in skincare, behind each and every one of our formulas lies years of research, development, and scientific investigation. We work closely with healthcare professionals in over 40 countries to understand all factors that affect the skin: our genetics, our environment, our lifestyle, and our emotions. Because when your skin talks, we listen. In this lies our mission to help people improve their relationship with their skin until they come to love it — fulfilling our commitment to inspire everyone we touch to live healthy, beautiful lives. Read more.
We would love to answer any questions you may have and help you meet your goals.
Frequently Asked Questions About Hair Loss Treatments