Radiofrequency Skin Tightening
Enjoy younger, firmer skin without the downtime or scars associated with invasive surgery.
What Are The Benefits of Evolve Tite?
Evolve Tite radiofrequency skin tightening is perfect if you have sagging or loose skin from pregnancy, weight loss, or aging. This safe and effective procedure targets tissue deep below the skin's surface, using radio-frequency technology to stimulate collagen production. The long-lasting results are tighter, firmer, more youthful skin.
How Does Evolve Tite Work?
Evolve Tite uses clinically-proven radiofrequency technology, stimulating collagen to bring volumetric heat to the skin's subdermal layers. Created using the unique ACE (Acquire, Control, and Extend) technology, Evolve Tite penetrates deeply into the skin, ensuring that each area is treated sufficiently but not excessively.
Is Skin Tightening With Evolve Tite Safe?
Evolve Tite is a safe and effective procedure for all skin types and tones. Evolve Tite has a Patient Call Button, so you can easily pause your treatment anytime and have clinic staff make adjustments to ensure comfort.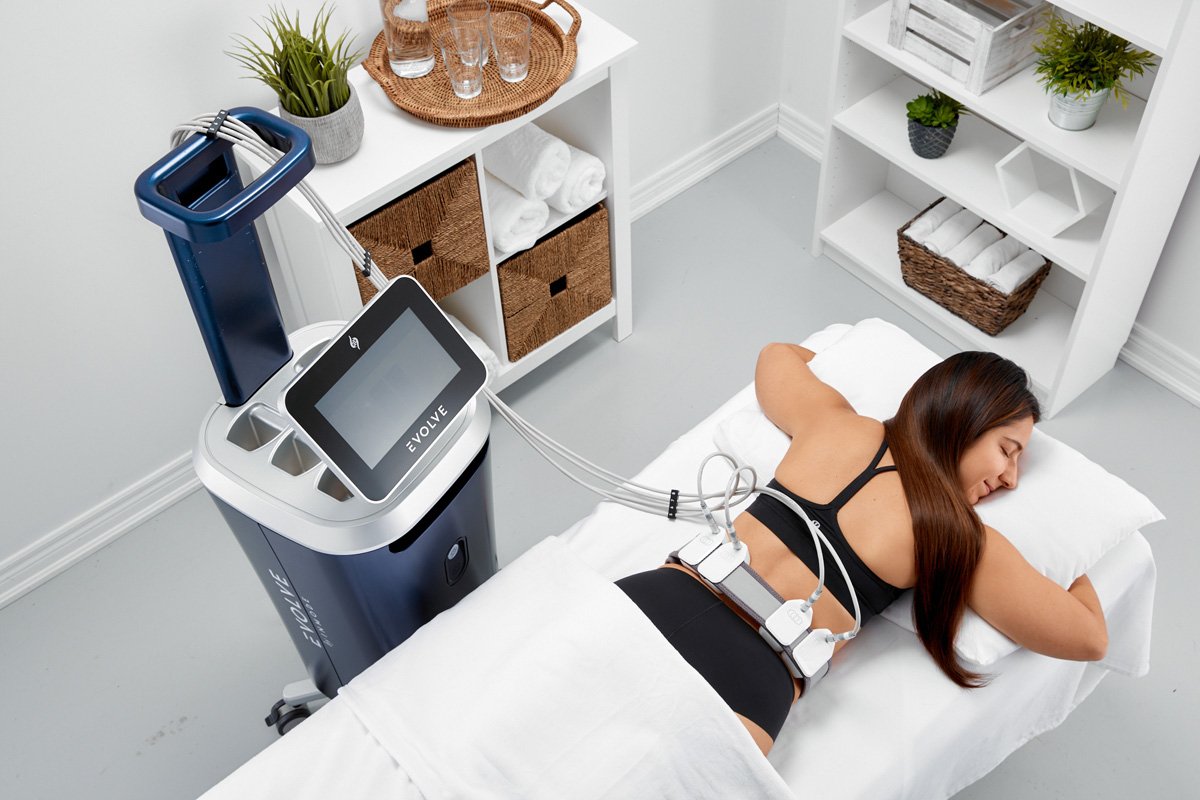 What Makes Evolve Tite Better Than Other Skin Tightening Treatments?
What truly sets Evolve apart from other nonsurgical body sculpting treatments is that its innovative technology can combine the benefits of Evolve Tite radiofrequency (RF) skin tightening, Evolve Tone's electrical muscle stimulation (EMS) for muscle strengthening and definition, and Evolve Trim for fat reduction. With an entire course of Evolve TITE, TRIM, and TONE body contouring, patients can address countless concerns, including:
Mild to moderate skin laxity

Loose skin after pregnancy

Side effects of weight loss

Stubborn adipose tissue

Areas of bulging fat

Poorly defined muscles
Indulge yourself with exclusive Advanced Medical Spa membership benefits.
Is Radiofrequency Skin Tightening Right For Me?
If you want to tighten and firm skin in isolated areas where you are experiencing loose, wrinkled skin on the body, i.e., after weight loss or pregnancy, choose Evolve Tite.
If you also desire muscle toning and body sculpting, consider Evolve Transform.
If you want one treatment that remodels skin while reducing fat and cellulite, Morpheus8 Body may be your best choice.
During your first visit to Advanced UCA, a medical professional will help you determine which skin tightening treatment, or combination of treatments, is right for you. Or, to help you decide, we've provided a confidential online evaluation survey. 
Who Should Not Use Evolve Tite?
If you struggle to lose weight or are not in good overall health, Evolve Tite may not be the best place to start. Instead, please schedule a Wellness Evaluation with one of our medical providers to determine what your body actually needs to get into good shape and feel fantastic. Before starting your aesthetic treatments, we may recommend hormone replacement therapy (HRT), weight loss injections, and nutritional support. 
At What Age Should I Get Skin Tightening Treatments?
Evolve Tite works best for people who are 35 or older, have mild to moderate skin laxity, and could benefit from a non-invasive skin tightening procedure.
What Areas Can Be Treated With Evolve Tite?
We can utilize Evolve Tite to tighten the skin on any body region, such as the thighs, abdomen, or arms. Medical specialists insert applicators in the areas of concern and tailor the settings to the patient's desired aesthetics.
What Skin Tightening Treatment Works Best on the Face?
The best facial skin tightening treatment depends on your current condition and aesthetic goals. Fortunately, InMode Aesthetics offers a variety of technologies to meet different needs. These treatments are sometimes combined with anti-aging injections and dermal fillers to achieve a younger, smoother appearance.
Forma uses radiofrequency technology and heats the dermal and fat/subcutaneous layer of the skin to promote collagen and elastin development, reduce fat cells, and contour your face and neck. 
Morpheus8 Face utilizes the best RF Microneedling technology on the market to help remodel and contour the face while plumping, refreshing, and renewing your skin.
These treatments are sometimes combined with anti-aging injectables and dermal fillers to achieve a younger, smoother appearance.
We would love to answer any questions you may have and help you meet your goals.
Frequently Asked Questions About Skin Tightening