RF Microneedling by InMode
With Morpheus8 Face skin rejuvenation and contouring treatments, you can turn back time to regain a smooth, revitalized look.
What Does Morpheus8 Do for The Face?
This FDA-approved, non-invasive device, utilizes cutting-edge RF Microneedling technology to help remodel and contour the face and neck, while refreshing and renewing your skin.
Increase collagen production

Remove fine lines and wrinkles

Tighten skin

Reduce fat on face and neck

Reduce facial scarring

Reduce dark spots

Reduce sagging and jowling

Improve skin texture

Improve sun-damaged skin

Shrink enlarged pores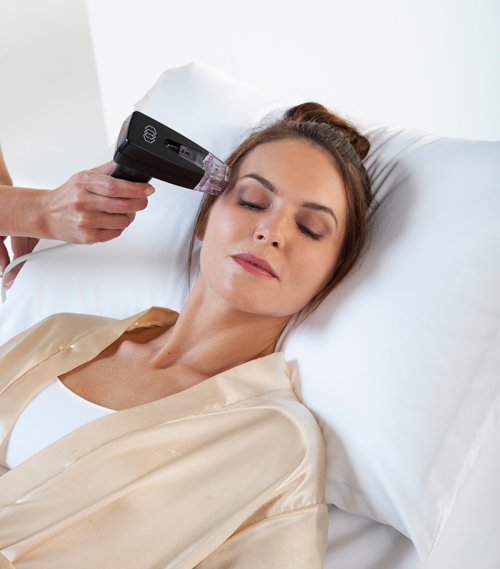 How Does RF Microneedling Work?
Microneedling is a very popular cosmetic procedure that uses tiny, sterilized needles to break the skin. This results in a type of controlled wound. As the tiny wounds heal, collagen proliferation increases.
When microneedling is combined with radiofrequency in the treatment known as RF microneedling, the RF energy heats underlying layers of skin to cause constriction and tightening of the skin and stimulating collagen and elastin production. Because the RF energy is inserted so deeply, it can produce dramatic results more quickly. 
RF Microneedling is minimally invasive and offers longer-lasting results than chemical peels and dermabrasion.
What Makes Morpheus8 The Best RF Microneedling Treatment?
Morpheus8 has the deepest heat profile compared to any other device on the market. The tissues treated with Morpheus8 are the epidermis, dermis, and subcutaneous adipose.
Because the deep layers of skin are targeted, the building blocks of the skin will reorganize themselves in a natural anti-aging process. Morpheus8 can penetrate from 0.5mm-8mm deep, melting fat so you can truly contour and morph different body parts.
One of four tips can be used to customize the treatment depending on the body part and indication. 
A variety of concerns can be addressed with Morpheus8 Face, such as scarring, fine lines and wrinkles, sagging skin, sun damage, and more.
Among many others, celebrities Kim Kardashian, Jessica Simpson, Lindsay Lohan, and Paula Abdul have all tried and loved Morpheus8.
Is Morpheus8 The Best Facial Contouring Treatment Available?
Morpheus8: The Favorite Celebrity Treatment Everyone Is Talking About
The British media have been going crazy over the "Strictly Come Dancing" Judy Murray's amazing skin transformation.  She revealed that she had the non-surgical facelift procedure that made her look 'over 10 years younger.'  The 61-year-old, mother of tennis ace Andy Murray had a series of Morpheus8 treatments. Judy talked about how the Morpheus8 microneedling procedure had helped improve her 'turkey neck' and make her skin appear much smoother. Read more.
Morpheus8 Review 2023: I Tested the Microneedling Device for Smoother, Tighter Skin by Laren Balsamo, Beauty Editor at Cosmopolitan
For me, the biggest benefit of Morpheus8 was an overall plumpness to my skin and fewer fine lines. I haven't had Botox in over six months and even though the dose has totally worn off, my forehead and eye area still look and feel smooth, which I attribute to my Morpheus8 treatment. Read more.
Indulge yourself with exclusive Advanced Medical Spa membership benefits.
Is RF Microneedling Right For Me?
Typically, Morpheus8 is an excellent cosmetic treatment option for almost anyone who desires long-lasting results with minimal invasion. Candidates for Morpheus8 Face must be in good health and have realistic expectations. 
While you can get a general idea of which treatment is best for you with our online evaluation survey, the best way to determine if RF Microneedling, using Morpheus8 technology, is suitable for you is with an on-site consultation with one of our professional providers.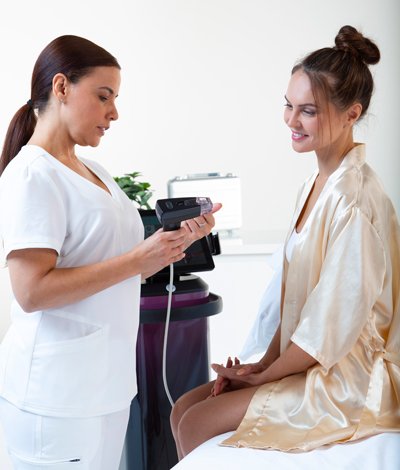 Morpheus8 is FDA-approved and safe. It is a very practical and affordable alternative to a facelift. Like a facelift, Morpheus8 can reduce the appearance of skin sagging around your neck, chin, and jowls. Wrinkles and lines minimize without incisions, blood loss, and anesthesia.
Morpheus8 is safe for all skin types and tones, making it an excellent choice for most individuals seeking skin rejuvenation and contouring. 
People with dark skin tones are sometimes at risk of hyperpigmentation with skin resurfacing treatments, but Morpheus8 does not pose this risk.
We would love to answer any questions you may have and help you meet your goals.
Frequently Asked Questions About Morpheus8 Face