Fight back against the damaging effects of sun exposure and premature aging with medical grade skincare products. Feel confident and comfortable in your skin!
What Are The Best Skincare Products For Me?
Finding the most effective skincare products for you will require identifying your skin type and the causes of damage to your skin. Skin issues are often a result of hormones or genetics; however, a large portion is caused by environmental factors such as sun exposure.
We will take an individualized approach when addressing your skin care concerns, first identifying the problem and then offering solutions based on your needs. We often recommend ISDIN Skincare Products for their antiaging and sun protection properties.
Exposure to the sun is a common cause for many people, and sun damage can have lasting effects. UV rays emitted by exposure to the sun can cause significant damage to the skin, which leads to wrinkles and white patches due to decreased collagen production, reduced elasticity, dark spots, and changes in melanocytes or excessive melanin production. Excessive melanin production causes sunspots, such as freckles and age spots.
It is important to take precautions when spending time in the sun. Wear protective clothing, use sunscreen, and avoid prolonged exposure during peak hours. 
In addition, stay hydrated and maintain a healthy diet to help protect your skin from sun damage and premature aging. 
Always remember that prevention is essential when it comes to maintaining the health and appearance of your skin. 
Why ISDIN Skincare Products?
We searched for skin care products that would not simply mask the surface but rebuild and repair from the inside out. ISDIN uses European skin care and sun protection expertise along with cutting-edge science. ISDIN's formula targets peptides and proteins within the skin and even repairs the DNA to restore your skin to its youthful, healthy glow.
Indulge yourself with exclusive Advanced Medical Spa membership benefits.
What Skincare Products Are Available?
We keep a supply of important ISDIN products for our patients and often recommend them after microneedling or laser treatments.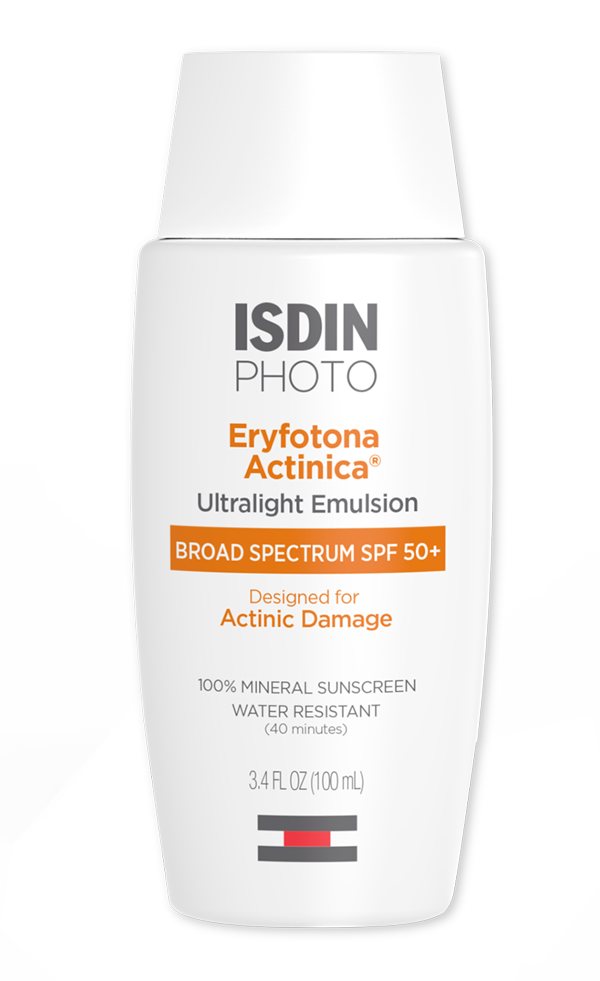 Eryfotona Ageless Or Eryfotona Actinica Sunscreen
Eryfotona Ageless and Eryfotona Actinica are mineral sunscreens formulated with a high SPF and ultralight texture. They offer maximum UV protection and aid in repairing existing sun damage to your skin using DNA Repairsomes (enzymes derived from plankton that repair UV damage to the skin). However, there are a few differences between the two that you should consider when choosing.
Eryfotona Actinica is explicitly designed to target existing sun damage and protect from UV and other outside aggressors. Excessive sun exposure overwhelms the ability of your skin to repair itself, which causes wrinkles, dark spots, or even pre-cancerous lesions. This ultralight, quick-absorbing formula is perfect for wear underneath makeup. Just add it to your skincare routine.
Eryfotona Ageless targets premature aging signs while protecting the skin from UV exposure. 80% of aging of the skin is caused by exposure to the sun! Eryfotona Ageless uses a blend of Peptide Q10 and Vitamin E to fight premature aging, keeping the skin healthy, reducing the appearance of fine lines and wrinkles, and boosting elasticity. It is also tinted to give the skin an even tone and correct visible imperfections. Skip the foundation with this tinted, age-fighting formula!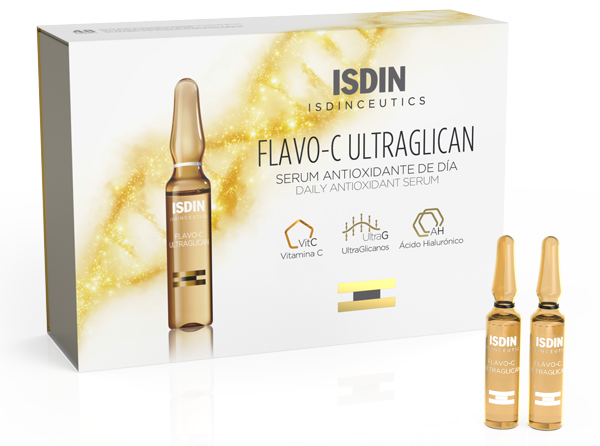 Flavo-C Ultraglican Ampoules
Flavo-C Ultraglican is a highly concentrated antioxidant serum formulated to hydrate the skin deeply and protect against oxidative stress. Made up of Vitamin C, Hyaluronic Acid, and Ultraglycans, this formula will restore your skin's natural glow and reduce the appearance of wrinkles and fine lines.
What are Ultraglycans exactly?
Ultraglycans are combined skin proteins that provide elasticity and skin hydration and reinforce collagen. These proteins and vitamin C will leave your skin radiant and moisturized while protecting against free radicals and photoaging (premature aging caused by the sun).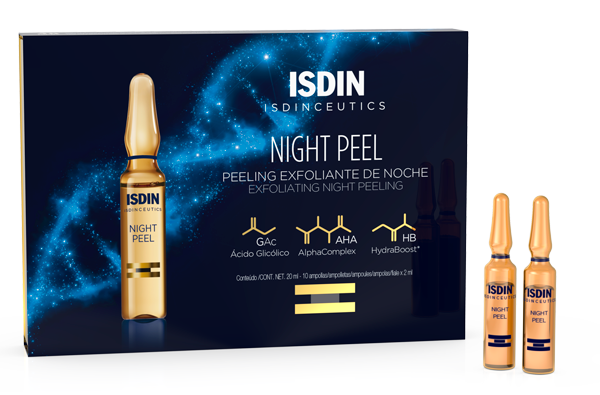 Resurface and renew your skin overnight with this gentle formula made of a unique blend of soothing and exfoliating ingredients. Night peel ampoules are expertly formulated using glycolic acid, alpha complex (acid combination), and hydra boost (deep moisturization) for the ultimate trifecta in skin health. Reduce the appearance of dark spots and wrinkles, soften and smooth the skin, all while you get a good night's rest!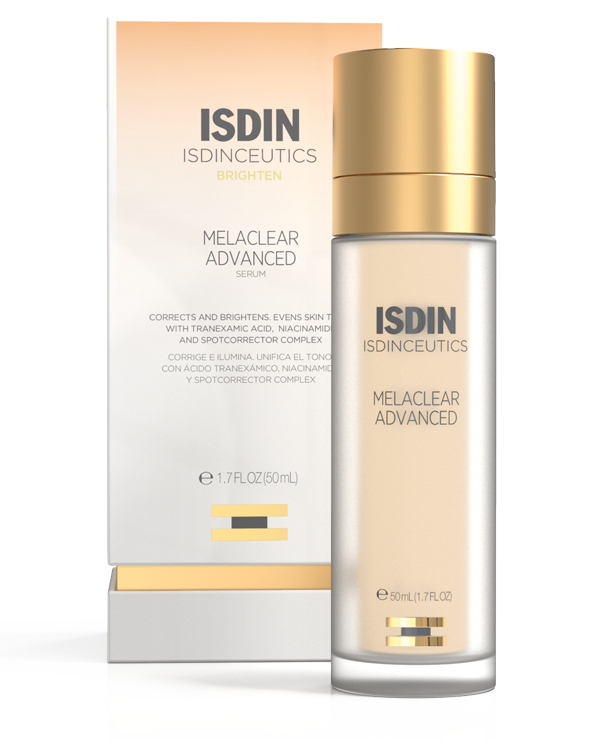 Melaclear Advanced is a powerful serum that corrects discolored and uneven skin tones. This expertly blended product contains tranexamic acid, niacinamide, spot corrector complex, and licorice root extract for the ultimate pigment correction technology. Safe for use on the face (avoid the eye area), neck, and chest! Apply in the morning and at night, and see visible results in just two weeks.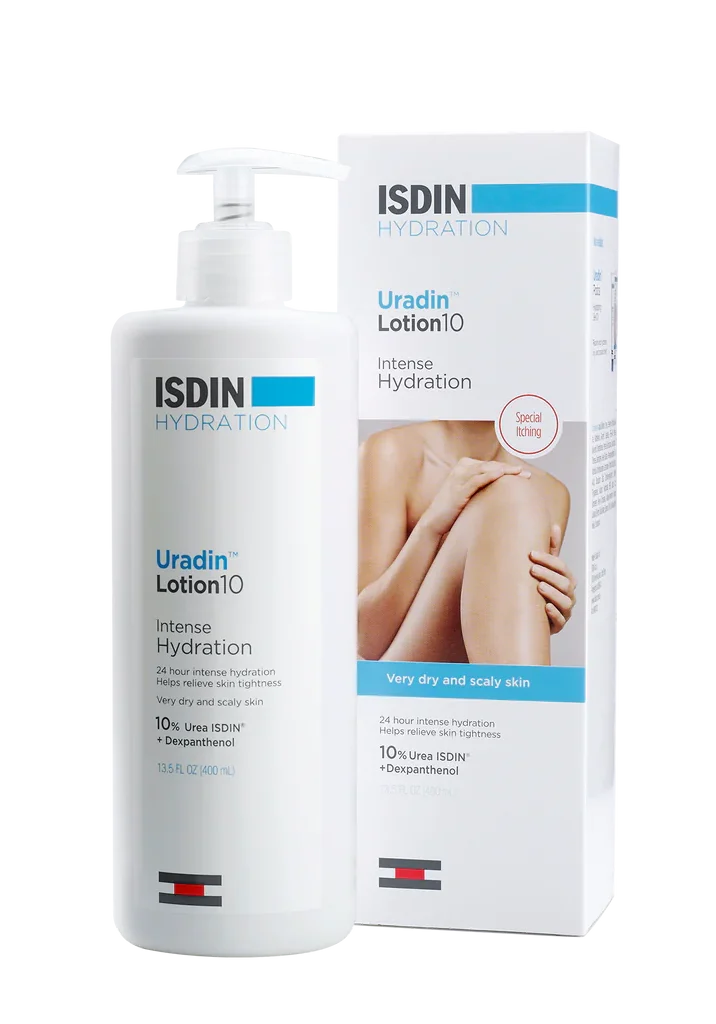 Uradin Lotion 10 is a highly effective skincare solution that has been specifically designed to restore the natural hydration levels of your skin. This amazing product works wonders in reducing dryness and itching, leaving your skin feeling soft, smooth, and supple. 
With its fast-absorbing formula, this lotion is perfect for those with dry or very dry skin who want to avoid that greasy feeling that often comes with other moisturizers. Whether you're looking to soothe irritated skin or simply seeking a reliable daily moisturizer, Uradin Lotion 10 is the perfect choice for you. Try it out today and experience the powerful benefits of this amazing product for yourself!
We would love to answer any questions you may have and help you meet your goals.
Frequently Asked Questions About Skincare Products